Gastronomic short break: pintxos of San Sebastian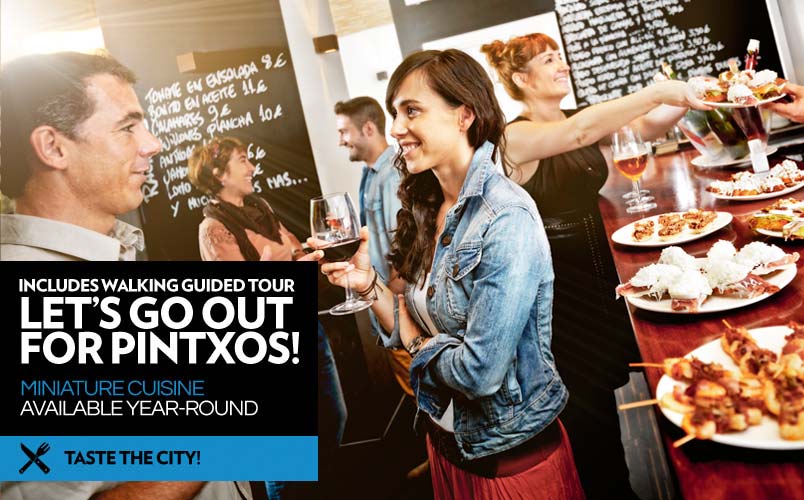 Pintxos route in San Sebastian
Don't you know where to eat in Donostia/ San Sebastian? Going out for pintxos in the Old Town is a really fun plan and a unique experience to enjoy a perfect stay in the city. One of the most important pintxo routes of all the Basque Country. Helped by a professional guide, we are giving you the chance to visit three well known establishments in the Old Town and try Basque miniature cuisine.
Let's go out for pintxos!
The short-break includes:
"Pintxos of San Sebastian", a cultural and gastronomic walking guided tour.
Two nights' bed and breakfast.
Free Extras per room:

'San Sebastián Card' Tourist Card.
One ticket for the tourist bus per person.
Welcome Pack containing tourist information about San Sebastian and Gipuzkoa.

DATES
May, June, July and September
PRICES

From 86 €
Prices per person, in a double room, VAT included.
Season:

Price A: 1/01 to 30/04; 1/11 to 31/12 (Except Easter and Bank Holidays)
Price B: 1/05-30/06; 1/10 to 31/10 (Except Bank Holidays)
Price C: 1/07 to 30/09 ; Easter (12 al 16/04) , May (28/04 al 1/05) , October (11 al 15/10), December (5 al 10/12).

Observations:

(*) Hotel Barcelo Costa Vasca:

In price a check supplement from (29 to 31/12)
In price b check prices between weekdays from Sunday to Thursday.
In price c check supplement Great Week (11 to 19/08)

(*) Hotel Parma: Check prices between weekdays
(*) Green Nest Hostel: Breakfast included according to dates (October to march: only Saturday and Sunday. From 1st of April to 30th June and 1st od September to 1st of October: From Wednesday to Sunday. July and August: Everyday). The hostel will be closed from January 4th to March 3th and December 24 and 25.