Contemporary works
KURSAAL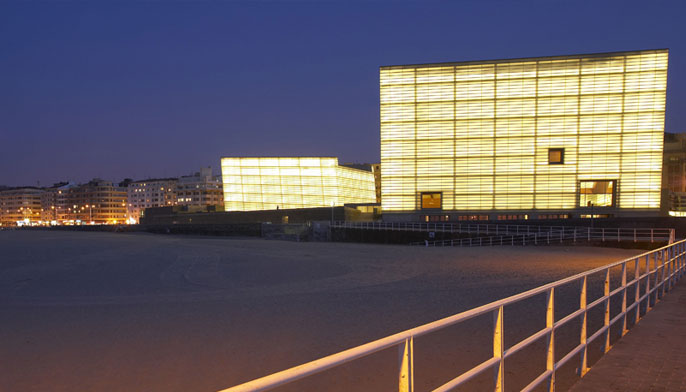 Kursaal cubes lit up at night
The architect Rafael Moneo designed the translucent glass cubes to resemble "two beached rocks" with the aim of "perpetuating the geography and, as far as possible, emphasizing the harmony between the natural and the artificial". The building holds the Contemporary Architecture Mies van der Rohe Award, the most important in Europe, for "the exceptional character" of the project and its "conceptual, aesthetic, technical and constructive innovation."
It is one of the great expressions of contemporary architecture, an artwork and distinguishing feature of San Sebastián ever since it was built, a congress centre and venue for festivals and fairs of all kinds.
The Kursaal is the result of an ambitious project thanks to which San Sebastián and Gipuzkoa now have a modern, innovative infrastructure for holding congresses and cultural activities.
IESU CHURCH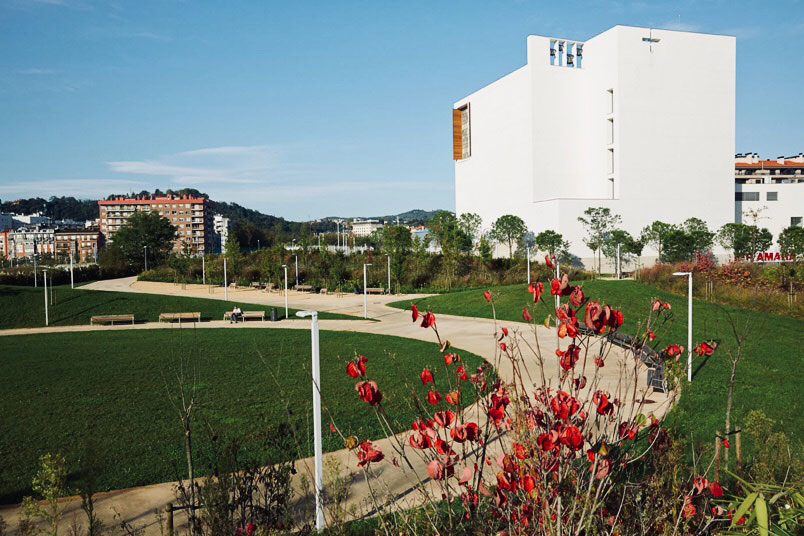 The Iesu parish seen from the Memorial Garden
The architect Rafael Moneo, considered to be one of the most outstanding representatives of contemporary Spanish architecture, was chosen by the ecclesiastic bodies to design the church for the new district of Riberas de Loiola created in San Sebastián between the already existing neighbourhoods of Amara and Loiola. Alongside the parish church a Memory Park has been built, a space to keep alive the memory of all victims of violence, terrorism and war.
BASQUE CULINARY CENTER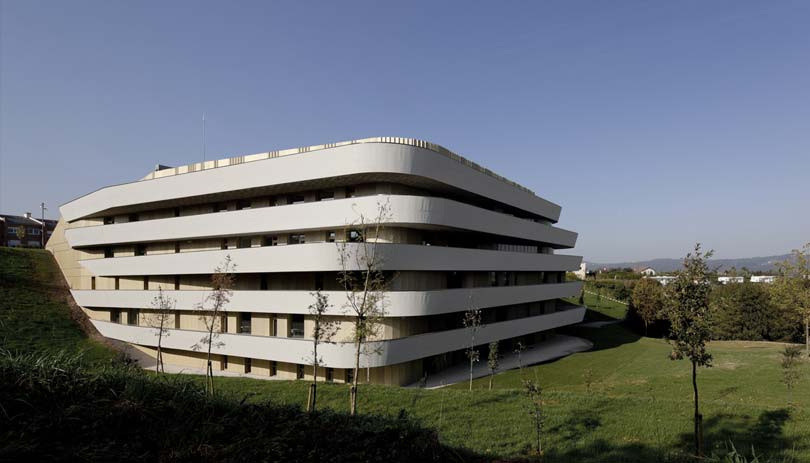 The Basque Culinary Center building looks like a stack of plates
The Basque Culinary Center building, completed in 2011, stands on a hill in the Miramón Technology Park. Designed by the VAUMM studio, the building organically integrates with its surroundings, making the most of the hill slope to organise the interior space from top (access, restaurant, etc.) to bottom (classrooms and laboratories).
If you approach the building from the north-east, you will see that its terraces are designed to look like plates piled one on top of the other, popularly known as "salad bowls".
JUNTAS GENERALES DE GIPUZKOA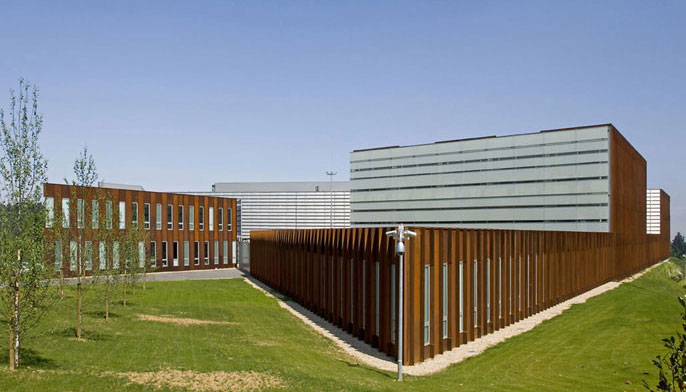 Gipuzkoa Generator Council building
Located in San Sebastián's Miramón Technology Park, the building (a 3-storey cube occupying a total of 3,600 m2) forms part of a built-up space alongside other Provincial Government bodies.
The construction is based on a continuous exterior skin of alternating 'blind' strips of corten steel and glass pieces, transparent or frosted, depending on the area. It runs round the building as a single cladding to combine, in the interior square, with another two facade walls in alabaster: one on the General Assemblies building, and another on the front facade providing the backdrop for the Plenary Hall. Alongside these are glass walls that open out onto the interior garden-patio and onto a central public square visible from all of the working areas around it. These areas are protected by double glass facades and metal latticework, giving each interior space an open and democratic feeling.
MUSIKENE (PROJECT)
Musikene-proyecto
The Higher School of Music of the Basque Country, Musikene is presently housed in the Miramar Mansion. A project is however underway to construct a new building in the district of Benta Berri.
---