How to get around & where to park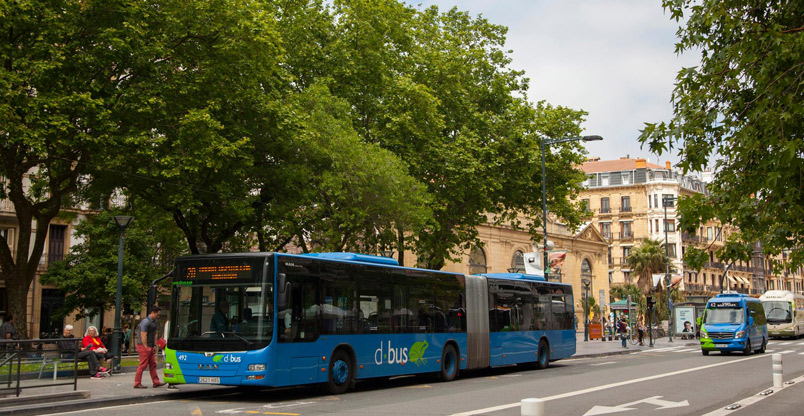 dBus Buses

San Sebastián is user-friendly; it is easy to get around using the public transport services that connect the different parts of the city.
Tourist Card
Don't think twice... get yourself one!
Because the TouristCard is the master key to the city.
Because the TouristCard marks the difference between visiting or getting to know San Sebastián and Gipuzkoa.
Because you can use the TouristCard on public transport, and it offers you excellent discounts in museums, restaurants and shops
Public transport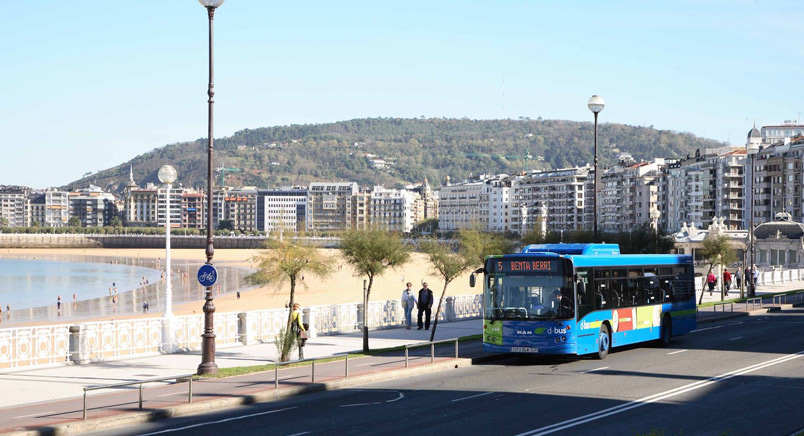 Photo: dbus
San Sebastián has a large bus fleet run by the company Dbus for fast and easy travel from one end of the city to the other. Take a look at the different lines on the Dbus website.
Access to hotels in bus lines
Area
From bus station
From ADIF train station
From city center
DBus' Journey Planner
City Center
María Cristina, de Londres y de Inglaterra, Tryp Orly, Husa Europa, Niza, Parma, Terminus, Zaragoza Plaza
Line 28, Line 26, Line 37, B4 Night Bus

(10' walking)

(same area)

Gros
Villa Soro, Gran Bahía Bernardo, Punta Monpás, Arrizul, Monte Ulia, Donosti
Line 27
Line 27
Line 13, Line 14, B6 Night Bus
Antiguo
Barceló Costa Vasca, Hesperia Donosti, NH Aránzazu, San Sebastián, Codina, Ezeiza, La Galería
Line 24, Line 27
Linea 24
Line 5, Line 25, Line 40, Line 33, B1 Night Bus
Amara
Astoria 7, Silken Amara Plaza, Anoeta

(same area)

Line 17, Line 24
Line 28, Line 26, Line 37, B4 Night Bus
Igeldo
Mercure Monte Igueldo, Avenida, Gudamendi, Leku Eder, Nicol's
(Check City Center lines)

(Check City Center lines)

Line 16, B7 Night Bus
Aiete
Palacio de Aiete, Irenaz Resort
Line 23

(Check City Center lines)

Line 19, Line 23, Line 31, B2 Night Bus
Times
The bus times change depending on the line. Most services start at 07h30 and end at 22h30. The times and frequency of the different services can be found at the respective bus stops.
Dbus has a night service known as the "Búho" (Owl). Most of the night bus lines start at 12 o'clock midnight and end at 4 in the morning. The Búho lines only run on Fridays, Saturdays and the nights before public holidays. All leave from the Boulevard.
By bike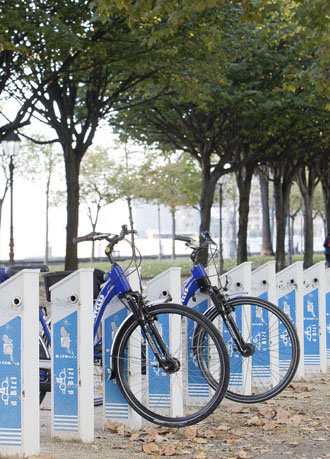 Visiting the city in a different, ecological, active and entertaining fashion is one of the easiest things to do in San Sebastián. Over 30 km of cycle paths locally known as bidegorris (literally red paths) will take you to most parts of the city on two wheels.
Bikes are a fast and comfortable way to get around; all of the seaside promenades, the city centre and the different neighbourhoods are perfectly adapted for cycling.
There are also several bike rental companies
Taxis
San Sebastián has a large and modern fleet of taxis available 24hrs a day. The rates are official and they operate with a taxi meter. In San Sebastián, unlike in other cities, taxis do not normally stop when hailed in the street. The best idea is to head for a taxi rank or phone for one:
Car parks
In San Sebastián you can leave your car in one of the more than 6,000 parking places found in different parts of the city.

Underground pay parkings all around the town

Park and Ride free car parks with bus connection to the city centre.

You can park on the street but only on TAO / OTA blue areas where parking is limited by time.
Car rental
Rental of cars with a driver:
Tourist transport
In addition to the city buses, San Sebastián offers tourists several other ways to visit and discover the city.
Touristic bus and train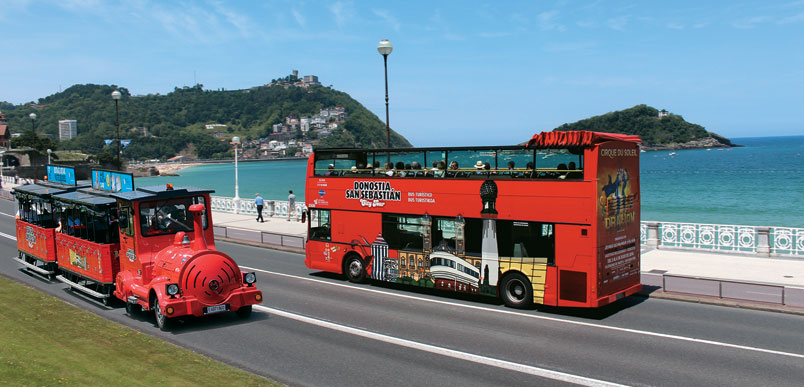 The city tourist open-top double-decker bus and articulated train offer a panoramic route with the best views of Donostia / San Sebastian. They provide an audioguide in 8 languages, and a service adapted for people with reduced mobility. The departure of the tourist train and the tourist bus starts at 11.00am. Both depart every hour, until 19.00pm the bus and 20.00pm the train.
Igeldo Funicular railway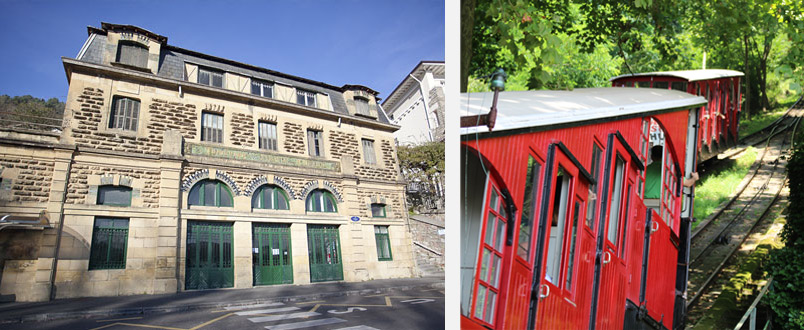 Now over a hundred years old, the funicular railway maintains its charming olde worlde feel. It runs from just beside Ondarreta Beach to Mount Igeldo and the journey takes 3 minutes. There is a small public car park at the entrance to the Funicular Railway building. Consult the departure times.
Ciudad de San Sebastián Catamaran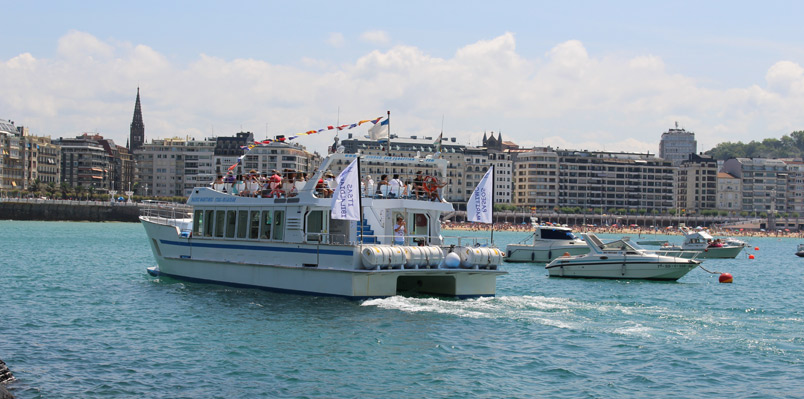 The Ciudad de San Sebastián catamaran will show you the city from a very different angle. Recently renovated, it proposes underwater windows and a 40-minute trip on which to enjoy delightful views of San Sebastián from the sea.
Island ferry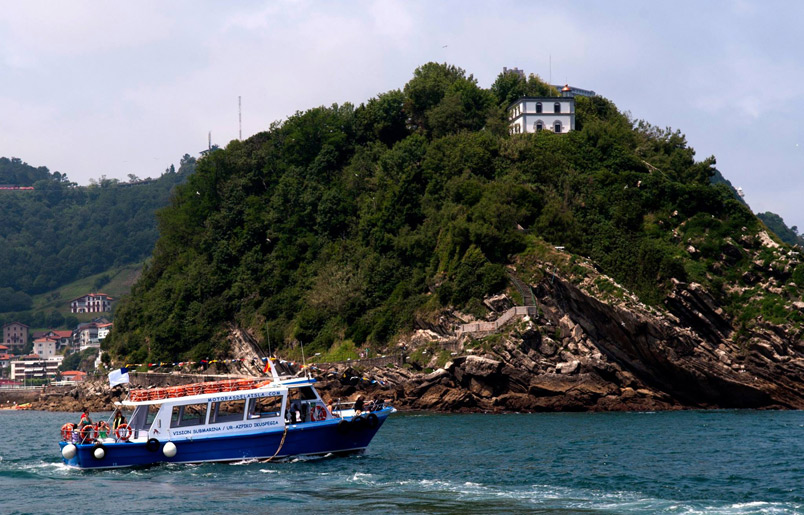 Photo: Motoras de la Isla
From June 1st to September 30th, the island ferry runs regularly back and forth between San Sebastián's harbour and Santa Clara Island. Sailing excursions with underwater viewing are also available.