Mount Urgull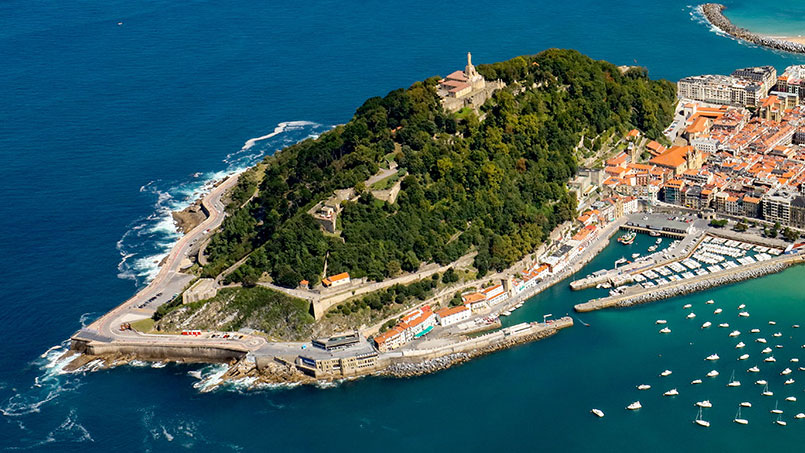 Guarding the city
On this hill standing in the heart of the city, in addition to privileged views, you will find the 'History House' Casa de la Historia, and remains of the walls and canons, witness to the city's military past.
The city's abrupt military history is still alive on Monte Urgull. The setting and terrain of the hill led to its use in the 12th century as a military fortress, sole witness to the numerous attacks and sieges suffered by the walls of San Sebastián down through the years. Part of these walls can still be seen in the Boulevard underground car park. In 1794, Monte Urgull witnessed the first capitulation of the city into French hands and looked on, powerless, as fire caused by the battle between French troops and the Anglo-Portuguese army razed the city to the ground in 1813.
The 12th century Castillo de la Mota standing at the top of the hill was key in defending the city, and around it we can still see the canons and arrow slits used to defend it. It is also home to the Casa de la Historia museum which will take you on a tour through audio-visuals, models, objects and scenographies describing the features that defined the lives of people in San Sebastián thanks to a narration covering the more than 800 years of a young and lively city. The English Cemetery, on the north side of the hill, testifies to the time spent by the English in San Sebastián.
Guarding the city from the top of Monte Urgull, the Sacred Heart statue (Cristo de la Mota) blends with the landscape of San Sebastián. The work, sculpted by the artist Federico Coullaut in 1950, measures over 12 metres in height and can be seen from 4 miles out to sea.
Bordering Monte Urgull, from the Harbour to the Calle Salamanca, a promenade will take you right round the coastline. Opened in 1916, it is famous for the sight of the waves breaking against the wall on days when the sea is rough. But you'd better keep a close eye on the water if you don't want to get soaked from head to toe!
In the westernmost part of the Paseo Nuevo, defying the strength of the sea, is the imposing sculpture Construcción Vacía (Empty Construction), by the artist Jorge Oteiza. The work, winner of an award at the Sao Paulo Biennale 50 years ago, has become a reference in the world of contemporary art; a true treasure there to be enjoyed by everyone.
Continuing to the end of the promenade, you will come to the Aquarium which, almost a century old and remodelled in 2008, can boast itself to be one of the most modern oceanographic museums in all Europe.
---