Plans couple
San Sebastián is an unparalleled destination for a romantic short break with your partner
A natural setting and typical early 20th century urban development endow San Sebastián with unmatched beauty and make it easy to get around as you shake off the stress of everyday life during your pleasant romantic short break. The city also offers you a series of especially suitable resources to lend quality and warmth to a special stay, whether alone or in the company of someone you love: spa centres, boutique hotels, fine restaurants, exciting routes and romantic activities.
The Pearl of the Cantabrian Coast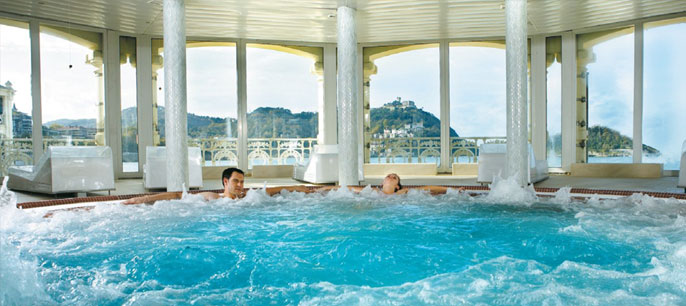 Main pool at La Perla, with views of La Concha bay
Standing at the centre of the Concha Beach, the Perla Spa has been providing all of its visitors with health, wellbeing and relaxation for a hundred years.
In a romantic atmosphere sheltered by the roof of an eclectic building dating from the beginning of last century, designed to cater for European nobility and with unmatched views of the Concha Bay, here you will find 4,500 square metres of cutting-edge technology for all kinds of treatment: health and beauty, physical/sports circuits, physical therapy... everything to ensure that you get the full benefit of sea water.
BOUTIQUE HOTELS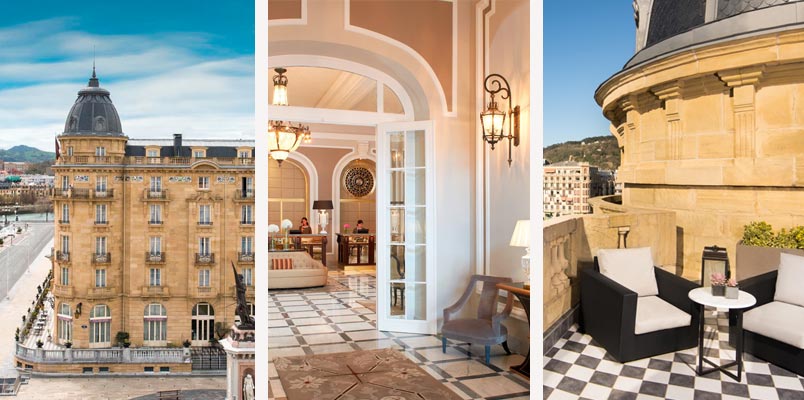 Hotel María Cristina from the other bank of River Urumea
San Sebastián's attraction as a tourist destination is rounded off by an enormously varied choice of boutique hotels.
Among the options are several that will offer you the peace, quiet and warmth you're looking for during these few days well and truly away from it all on a romantic short break with your partner: 5-star hotels, romantic 19th century buildings, villas listed as Heritage Homes, modern buildings packed with the glamour of a film city...
RESTAURANTS FOR SPECIAL OCCASIONS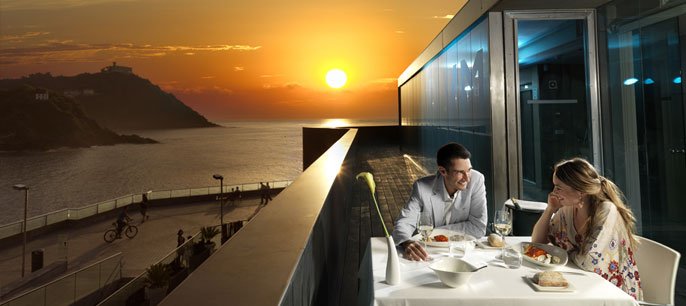 Our chefs lovingly nurture their recipes and products to make an art of gastronomy. And to make things even better, San Sebastián has several restaurants with an especially romantic atmosphere you can see at a glance. Romantic restaurants with warm, intimate spaces to give you the same privacy you would enjoy over a candlelit romantic dinner with your partner in your own home. Spectacular sea views are a common denominator of these select, top quality and romantic restaurants.