How to get here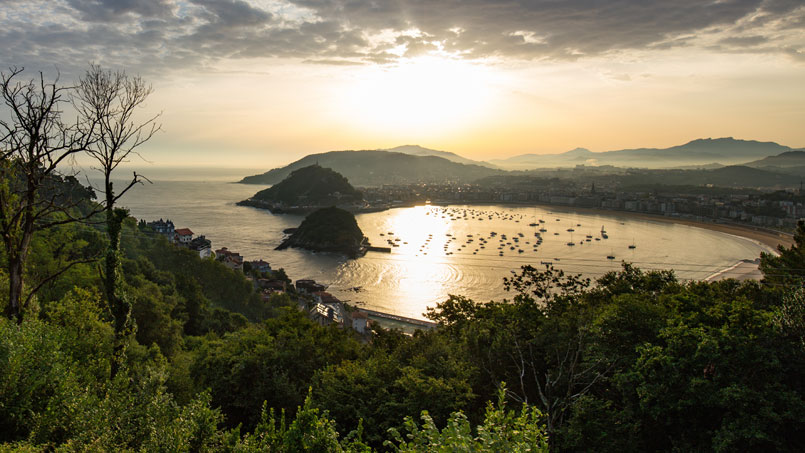 Its strategic location and excellent infrastructures make San Sebastián a place easy to reach from anywhere in the world, no matter what your method of transport. Choose the one that suits you best and get travelling!
By plane
San Sebastián has 3 airports (2 international) within just over 100 km of the city.
Only 20 kilometers from the city centre, San Sebastián Airport has connections to the major Spanish cities; Madrid and Barcelona.
Bilbao Airport, with connections to all Europe, is 105km from the city, and Biarritz Airport, served by French and international low-cost companies, 47km.
By car
Getting to San Sebastián by car is extremely easy. The city is connected to the rest of Spain and France by the N-1 (the national highway connecting Madrid to Irun), the AP-8 (Bilbao-Irun) and A-63 (Paris-Irun) motorways and the A-15 highway (Pamplona-San Sebastián).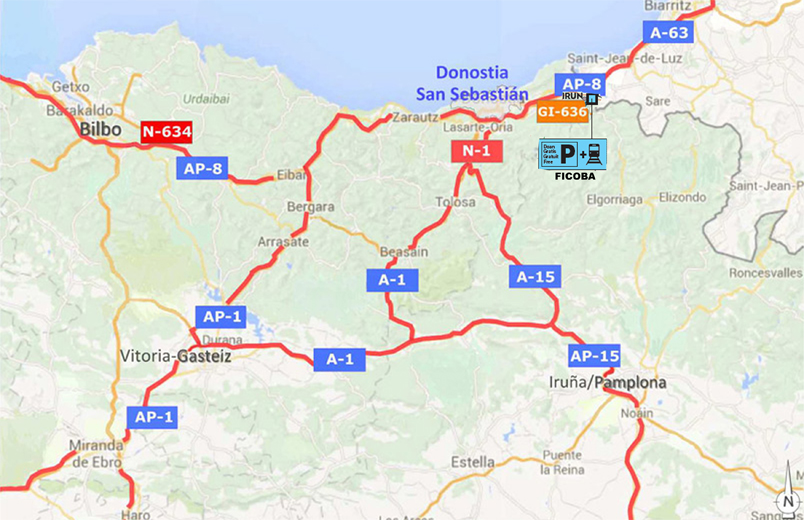 Another comfortable way to get in San Sebastian is parking your car in Ficoba Exhibition Center in Irun (at the French border, 20 Kms from San Sebastian) and take the Euskotren train to San Sebastian (40 minutes ride)
Once in San Sebastián, you can leave your car in one of the more than 6,000 parking places found in different parts of the city.

Underground pay parkings all around the town

Park and Ride free car parks with bus connection to the city centre.

You can park on the street but only on TAO / OTA blue areas where parking is limited by time.
By train
RENFE
The company RENFE rail service offers both long-distance train and suburban
The train station in the centre of San Sebastián, the "Estación del Norte", offers connections to numerous Spanish cities including Madrid and Barcelona, and to international destinations such as Paris and Lisbon.
Train journeys to and from San Sebastián will gain enormously in speed with the new Tren de Alta Velocidad (high speed train), due to connect the city with other destinations in the near future.
EUSKO TREN
There is also an underground railway, the Metro Donostialdea, a narrow-gauge train connection with Bilbao and cities along the Basque Coast, such as Zarautz. The service linking it also Hendaye (France) and the SNCF, french rail service, with Lasarte passing through Donostia. The train is popularly known as the "Topo" or "Mole".
SNCF
The French company SNCF connects with world capitals such as Paris from Hendaye train station.
By bus
The San Sebastian new bus station has lines to cities throughout Spain and part of Europe.
The bus station "Estación DONOSTIA Geltokia", is situated in Paseo Federico García Lorca 1, near the RENFE train station – Estación del Norte. Contact
The underground station has 21 bays, a café, newsstand and a left luggage office with 66 lockers where you can leave your belongings. It also has two floors of parking space for up to 384 vehicles.
Eight of the city's Dbus routes will stop in the area around the station: the lines 17, 24, 37 and 45 in front of Renfe train station; 9, 41, 42 at Duque de Mandas street and 27 in María Cristina bridge.
Private cars that need to leave or take friends and relatives at the bus station can use the "Estación" underground parking 15 minutes for free.

In addition to national and international routes such as those from Madrid, Barcelona, Santander, Asturias, Logroño, Pamplona, Bayonne - Biarritz or Paris the following provincial routes also have their departure / arrival at the new bus station:
En superficie, concretamente en la calle Federico García Lorca, nº 2, paran las siguientes líneas:
E21 Hondarribia – Aireportua - Donostia
UK09 Zumaia – Donostia (N634)
UK10 Zumaia – Zarautz – Donostia (AP8)
INFORMATION FOR PRIVATE COACHES
Private Coaches arriving to San Sebastian can find an appropriate place to stop, in order passengers to get off and get on, at the new bus station. They must book the space.
To park the bus, there is a suitable place behind Garbera Commercial Centre, at the east side of the town (43°18'33"N 1°56'42"W). This commercial centre is connected by buses 33, 24 & 27 of the DBus bus company.
Another parking option for buses is the P + R "Illunbe 2" parking lot, at Pº Miramon, next to Anoeta stadium (43°17'48.9"N 1°58'20.1"W).
By motorbike
In the city of San Sebastian you can not park your motorbike in the side walk and if you do it you can be fined. The city have specific parking for motorbikes.
By campervan
San Sebastián has a service area for overnight stays in campervans:
| | |
| --- | --- |
| Address: | Paseo Berio, 12 - Donostia / San Sebastián. |
| Coordinates: | [43º 18' 28'' N 2º 00' 51,6'' W / X= 580042 m Y= 4795677 |
| Places: | Approx. 44 parking places. Separating lines between places. |
| Lighting and water point: | yes |
| Services: | Free, including water (2 taps) and electricity. Ecological waste disposal area. |
| Maximum permitted stay: | 48 hours. |
| Price: | The campervan park works on the same basis as the OTA parking meter system in the rest of the city. The charge is EUR 6 in the high season and EUR 4 the rest of the year. Payment for this parking service is pending approval at the Municipal Plenary Session and will take effect shortly. Meanwhile, parking is free, and all you have to do is enter your registration number in the machine. |
Other parts of Gipuzkoa also have campervan parking areas: Legazpi, Renteria and Zumaia.